The last two days would have been lovely except for the sporadic rain and swarms of hungry mosquitos. We have hiked past dozens of absolutely gorgeous lakes, and the trail has been mostly rolling hills and flat lands. Luckily that makes for some quick hiking even with the mud because our speed was the only thing saving our skin!
We got caught in a downpour as we were coming into camp last night and got soaked through, but woke up to a gorgeous blustery day this morning. We hiked the easy 4 miles to Abol Bridge store and enjoyed our last day of eating junk food by having doughnuts, rootbeer, and whoopie pies for breakfast. It was delicious. We enjoyed resting in the sun for a bit outside the store with our new friend Monkey. We've been leap frogging with him since the beginning of the hundred mile wilderness. He started at the beginning of May and will be completing the trail in about 100 days! He said he's been hiking 10-12 hours a day since the beginning. We may have been doing the same for the last few months, but oof the idea makes me cringe. We will be finishing in just under five months when we summit tomorrow, and that has been hard enough!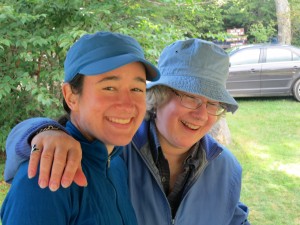 We enjoyed our last 10 miles to the base of Katahdin where my wonderful family was waiting for us with food and many hugs!