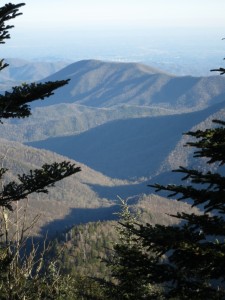 Today we climbed Clingman's Dome.  While the weather stayed clear of precipitation for us, the trail was very icy.  We got up earlier than normal, hoping to get to the top for sunrise, but we simply couldn't move as quickly on the trail as usual.  The trail remained icy and snowy to the point that we ended the day spending just as much time on the trial as the day before (our longest day yet), but covered just over half the mileage.  Temperatures dropped to freezing the night before, slicking up the trail that had begun to melt in previous days.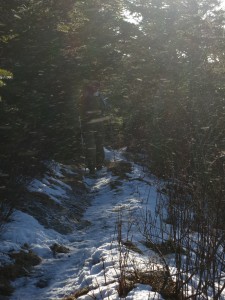 We still got to the top in early morning, and were fortunate to have a clear view of the surroundings.  Despite being the tallest point on the trail, the top still had trees all around, so there was a viewing platform built at the top to allow a 360 view of the surroundings – it was beautiful, but quite windy up there.
The climb down remained treacherous until we got very close to Newfound gap – our goal for the day and the connection to the road that lead into Gatlinburg.  At the gap, we met a group of people doing trail magic.  One was an alum who hiked last year, and the other two were a very generous couple who come to Gatlinburg every year to do trail magic for their vacation.  It's quite generous of them to spend their vacation time helping others – not too many people are willing to do something like that!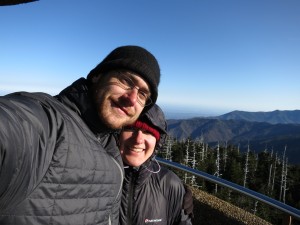 The next morning, they gave us a ride to the post office to pick up our mail drop and then drove us and some other thru-hikers back to the trail.  Coming out of Newfound Gap was still icy and snowy, but things seemed to be consistently melting.  We pushed on a longer day, since we knew that the next day was supposed to be rainy (and we wanted to hike in the dry for as long as possible), but unfortunately when we arrived at the shelter, it was over-full and we were forced to camp nearby (in the snow).  It rained that night and we left camp with a wet tent and headed into the worst weather we've had yet on the trail: by the end of the day our clothes were covered in ice and I even had icicles dangling from the brim of my hat.
Fortunately we made it through and were rewarded a couple days later when we left the Smokies and were met with an awesome view at Max Patch.