The weather turned gorgeous this morning and provided us with such warm breezy weather that I got my first sun burn of the year far earlier than normal. We only ended up hiking about 8 miles today, but it included some spectacular views. We also needed to clear this particular part of the trail by the end of the day because camping in this section requires a bear canister. The bears have been particularly active and they are trying to protect both bears and campers by requiring canisters. As this is the only stretch of the trail that requires them, we thought it best just to pass on through rather than carry the weight.
Blood Mountain is not the highest peak of the AT by far, but it is the highest we have scaled at this point. The climb to the top was not easy, but on such a beautiful day it was hard not to enjoy the effort. Especially since we took an extended lunch at the top to enjoy the view and the shade of some rhododendrons. I have never been in woods before this trip that have sporadic large groves of rhododendron trees, but they are lovely, even though they aren't blooming.
While sitting and eating lunch we ran into a local guy who was looking for a cave with a natural chimney that was hidden somewhere at the top of Blood Mountain. He said he had been lead there by a couple of former Army Rangers some years before and was trying to find the cave again. It sounded pretty neat so Jonathan tried to help him look while I watched. Sadly, no success, but perhaps it will give us a reason to revisit Blood Mountain again some day.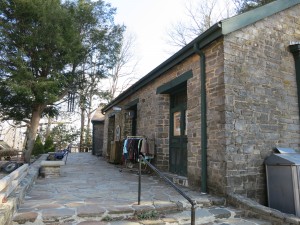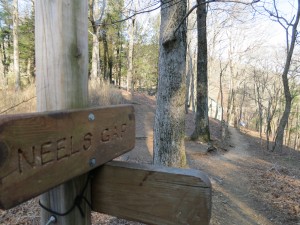 The day ended with us arriving at Neel's Gap, and the Walayasi Center which has a hostel and outfitter. We had intended to swap out a few pieces of gear and keep moving, but it got late in the day and we decided to take the time for us to each use their showers. In the end some of our friends had permission to camp behind the outfitter and convinced us to join them instead of moving on.
In the end we were glad we did! The Baptist churches in the area volunteer to cook the Thru Hikers dinner during March and April, and even though we weren't staying in the hostel they invited us over for hamburgers, slaw, and cookies. It was delicious, and a wonderful end to a beautiful day!