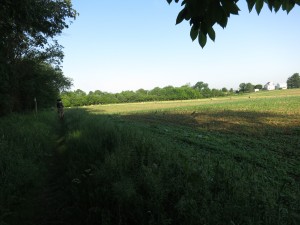 Decided to make up a bit of ground we had lost with all this heat and try for a thirty mile day. We camped about 5 miles outside of Boiling Springs and hiked through town to pick up our mail drop so we would have food for dinner in case we didn't make it all the way to Duncannon the way we were planning. Luckily nearly half of the day was hiking around or near farm fields so the terrain was pretty rolling, but boy was it hot! It was another 90+ degree day and we were both drinking gatorade at intervals to keep from feeling sick with the heat. We have never hiked so far and taken so many breaks in one day, but we needed to cool off periodically it was just so hot, especially in the stretches of open field we hiked through.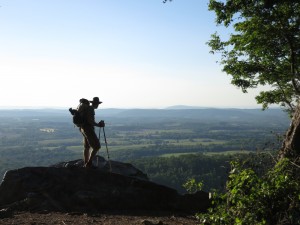 The second half of the day was a decent sized mountain and ridge walk then descent into Duncannon. That was exhausting primarily because of the rocks, but we are pretty sure it is just how it is going to be for at least the rest of Pennsylvania. This state is famous for its rocks!
Got into Duncannon late, but feeling very accomplished. Experienced The Doyle Hotel which is a trail mainstay. Neat old building, but if it was restored it would be a real gem. Found a great pizza place that was open late and celebrated our long day with Pennsylvania Dutch birch beer and a meatball pizza, both were delicious!